Club news
Members were able to come together for a Fun Day on Saturday 5 September 2020 nearly at the end of a decimated season. Everything was planned to take place outdoors so we had 24 bowlers playing Australian Pairs in the morning and a Roving Jack game in the afternoon - both new forms of the game to most of our members. The Aussie Pairs was won by Elaine Lister and John Avery while David Brookes, Brian Lake and Richard Miller had the biggest smiles at the end of the Roving Jack competition. Perhaps the highlight was the bit in the middle when bowling stopped and we all spread out around the green to enjoy a BYO picnic. The bar was open to help the day go with a swing. We had a dozen or so spectators spread out during the day and EVERYONE agreed that they had had a great day!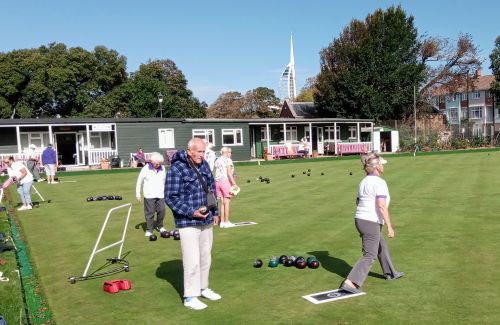 Play in progress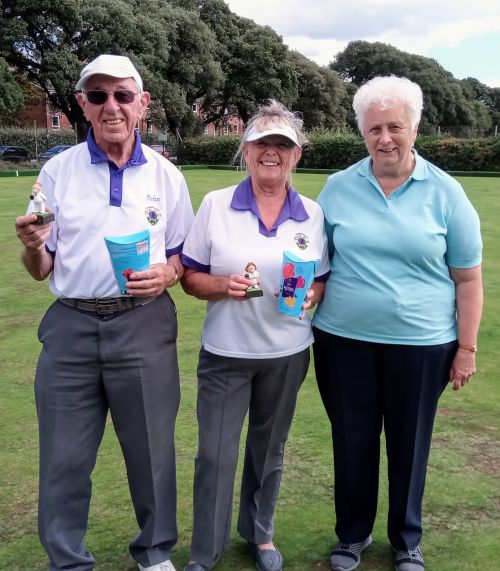 John Avery and Elaine Lister are presented with their prize by Carol Reynolds, President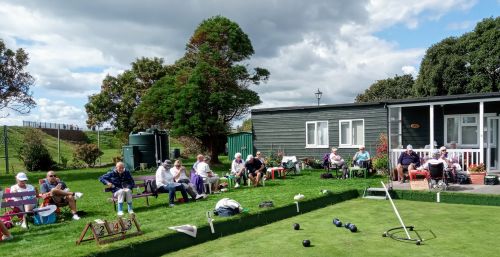 Here's the best bit.........it's picnic time!
And on Saturday 12 September we played a Mixed Triples competition for the Charlie Macey Trophy that was donated by Colin Macey last year in memory of his dad. 24 bowlers took part in the round robin early rounds, leading to semi-finals and then the final, all played in one day. We were blessed with lovely weather again and the result was a win for Lesley Drew, Elaine Lister and David Brookes who overcame Caroline Hewitt, Sam Spence and John Leighton who also organised the event.
Here are the finalists