Club news
On Saturday we played the Bowls Devon Tourists on their first game here in Hampshire and it was a pleasure to welcome them. The game featured 6 rinks of mixed players and was played in pleasant weather and even the sun shone after tea! Pembroke President Carol Reynolds and Bowls Devon Ladies President Christine Marshall exchange pennants after the game.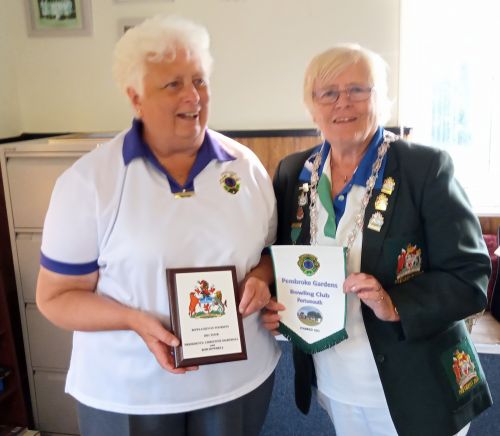 Champion of Champions
Our men's Club Champion this year is David Brookes so he went forward to compete in the Portsmouth and District Champion of Champions competition held at Leigh Park Bowls Club where David made his way to the final. His opponent was Roy Carter from College Park Bowling Club. Both players were in fine form and the match was closely followed by a small band of spectators. David started well and quickly reached double figures but Roy then won several ends to get within 2 points but David rallied for a strong finish and ended with a convincing lead. Simon Batcheler P&D Competition Secretary was on hand to oversee the event and present the trophy. Players and officers paid tribute to the excellent facilities made available by Leigh Park Bowls Club.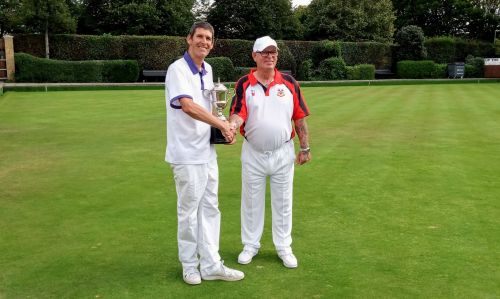 Sunday 25 July was President's Day, just one day after our Men's Two Wood Competition. The weather was not kind to us this year and we only managed 6 ends of bowls before the rain came down. However we did get a "spider" played first as this event is all about fund raising for the President's Charity. President Carol Reynolds wanted to continue the Club's support for Forgotten Veterans this year.
After our 6 ends of bowling the rain arrived in force but by then Jill Taylor and Margaret Rees had got the buffet onto the tables, the bar was open and a very good meal was enjoyed by 50 Members and guests. This was our first "large gathering" since Covid 19 had such a huge impact on our Club activities through 2020 and 2021. Presentations were made to four long-serving officers who are not standing for office next year. They are Jack Chernin, John Thurston Les Maddock and Trevor Watkins.
It was a real joy to have so many members present, all eager to catch up with news and simply chat to one another. Here are a few pictures:-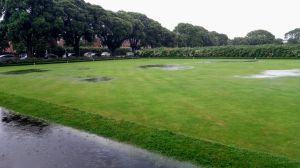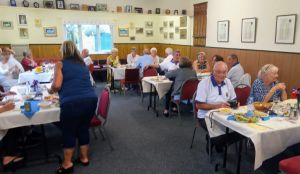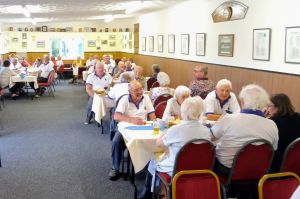 On Saturday 24 July we played our Men's Two Wood Competition, run by Bob Smith with two groups of 4 teams playing in a mini-league, leading to two semi-finals and a final. In the semis Former winners David Brookes and Trevor Watkins were knocked out by Richard Miller and Dusty Miller - NO they are not related! In the Final, which produced some really good bowling Dusty Miller beat Richard. If you scroll down you will see that Dusty and his team won the Charlie Macey Trophy earlier in the month. This man is having a tremendous season! Well done Dusty.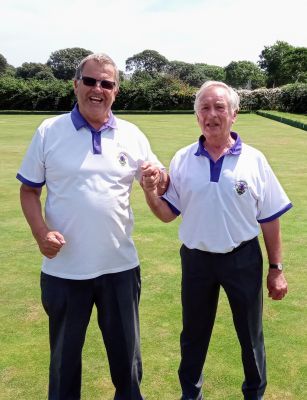 Dusty and Richard Miller
On Saturday 17 July we ran our internal Club Competition for the Charlie Macey Trophy. Now in its third year it is one of the competitions we have been able to keep going through the Covid-restricted summers of 2020 and 2021. We had 8 teams of mixed, drawn triples. All took part in 3 preliminary rounds before the lunch break and the leaders then competed in two semi-finals before the grand final. All played in very warm warm sunshine so the gazebo was very popular for the break. Here are a few photos.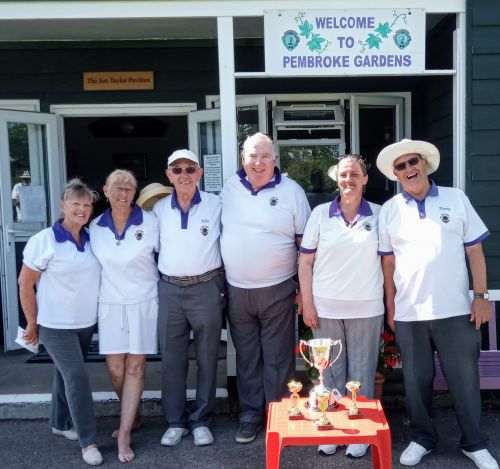 Here are the finalists. On the left are Elaine, Jill and John the runners up and on the right are Sam, Caroline and Dusty who collected the Trophy.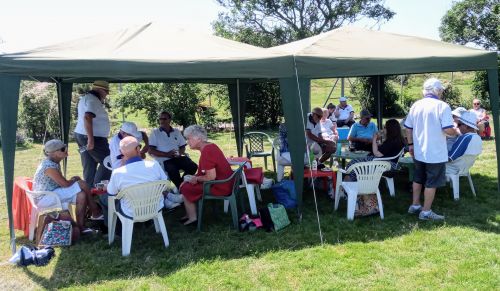 And here we are enjoying a BYO picnic lunch. The bar was open, there was a great raffle and some home-baked cakes.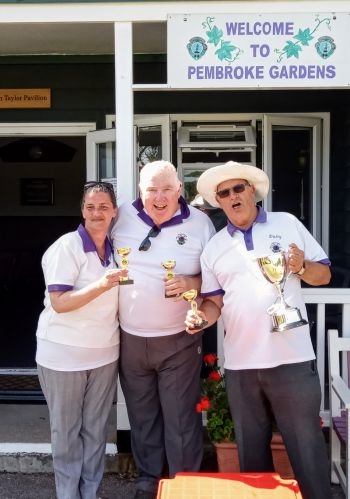 And here they are again - Caroline, Sam and Dusty
2021 Champions