Club news
The best news is on the home page. We are bowling again! Like every other Club in 2020 we closed in mid-March but here is a reminder of "the old days"...
Just before Christmas members came together for lunch and the presentation of cups and trophies to winners of Club Competitions held during the summer of 2019. Here are some of the winners: -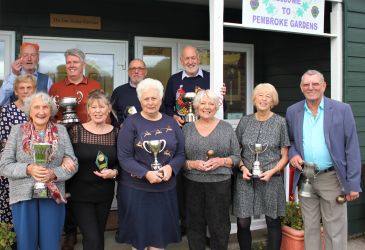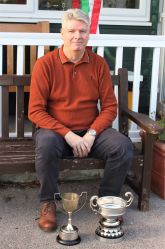 Our Ladies team had a very successful year. Apart from coming third in a very competitive league, several entered local Portsmouth & District (P&D)and Bowls Hampshire competitions. Between them they have notched up the following successes: -

Winners of the P&D Triples competition (Carol Reynolds, Jennie Edgeller and Jill Taylor)
Winners of the P&D Fours competition
Winners of the Gill May Trophy (Carol Reynolds, Jennie Edgeller, Jill Taylor and Elaine Lister)
Carol reached the Semi-finals of the Consolation Cup
Carol was runner up in the County Champion of Champions competition, losing to Rosemary Bailey. Last year Jill Taylor was the Champion of Champions winner so a very impressive record for the Club.
Here are just some of the winning ladies. Cissie Avery and Lorna Hallett also played in some of the rounds. Left to right in the photo are Elaine Lister, Jennie Edgeller, Jill Taylor and Carol Reynolds.

Well done ladies!