Hello and welcome to the
Pembroke Gardens Bowling Club website
July is going to be a very busy month for the Club. We shall be hosting two County games at the Club and running our annual Open Triples Tournament. We have a visit from the Plymouth and District Bowling Association and our Club competitions are in full swing too.
The Club was pleased to host a game between Bowls Hampshire Men and Bowls Isle of Wight Men on Wednesday 10 July. Most of the players from the Isle of Wight travelled across the Solent by hovercraft - the terminal is just 200-300 yards away from the Club. The game was played in pleasant sunny weather with a very gentle sea breeze and Bowls Hampshire won the game. Both presidents paid tribute to the facilities the Club had to offer. Here's a photo of Pembroke Gardens President Carol Reynolds formally handing over the green to Bowls Hampshire President Keith Taylor with Bowls Isle of Wight President John Harden and Bowls Hampshire Area Secretary Dave Wildman looking on.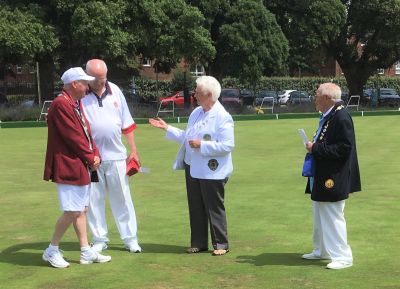 As to our league teams - our ladies team have done well in the first half of the season. The results have been a bit more mixed for the three men's teams. Follow the link under the Affiliations tab to see how we are doing in the leagues. The men's results are under the Portsmouth and District Bowls Association and we play in League 3 and Combination League 3. For the Midweek Triples we are in the Town League Red Division. For the ladies look at the Portsmouth and District Women's Bowling Association under the League Results tab and you will find us in League Division B.

Speaking of Club Competitions, we ran a brand new one on Saturday 6 July for the Charlie Macey Trophy. His son Colin kindly donated a super new trophy in memory of his Dad who was a very popular member until he passed away last year.The competition was run as a drawn mixed triples event to be played on one single day. Eight teams entered and the first winners of the Trophy were Cissie Avery, Dusty Miller and Trevor Watkins, pictured below: -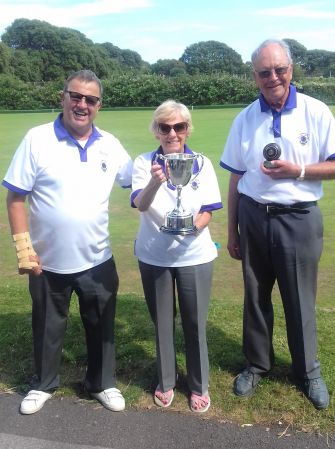 We ran our Open Fours Tournament on Saturday 8 June with 24 teams from the Portsmouth area, Petersfield, Lee on the Solent and Purbrook. All teams played 25 ends in all in the round robin stage before we got to the semi finals with two Pembroke Gardens teams playing. Indeed the final was played between Southsea Waverley and one of the Pembroke Gardens teams. The 7 end final was won by the Southsea Waverley guys. Food and refreshments were served all day and, despite the stiff breeze, everyone had an enjoyable day. The finalists are pictured below.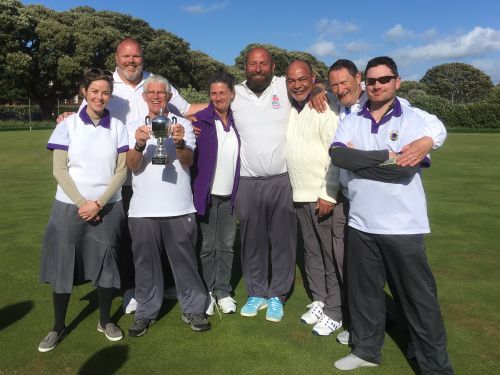 Don't forget that if you just want to turn up and bowl in a relaxed, informal style we have roll-ups every day. If you have not tried the game of bowls yet and want to have a go call in any day between 12:30 pm and 3:30 and ask for the Steward on duty. We can provide a set of bowls and some basic tuition. We just ask you to wear flat shoes to help protect the bowling surface.

In other Club news two members, Lorna Hallett and Trevor Watkins joined thousands of others determined to help fund research into cancer treatment. They did the 5 kilometre race in under an hour in pouring rain. Friends and family generously donated nearly £800 to Cancer Research UK.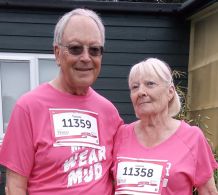 We also have a few social events planned including a trip to Goodwood Races, our own in-house horse racing fun evening and a Quiz Night. We must be one of the busiest clubs in Portsmouth. All games and events are displayed under the Events Tab above.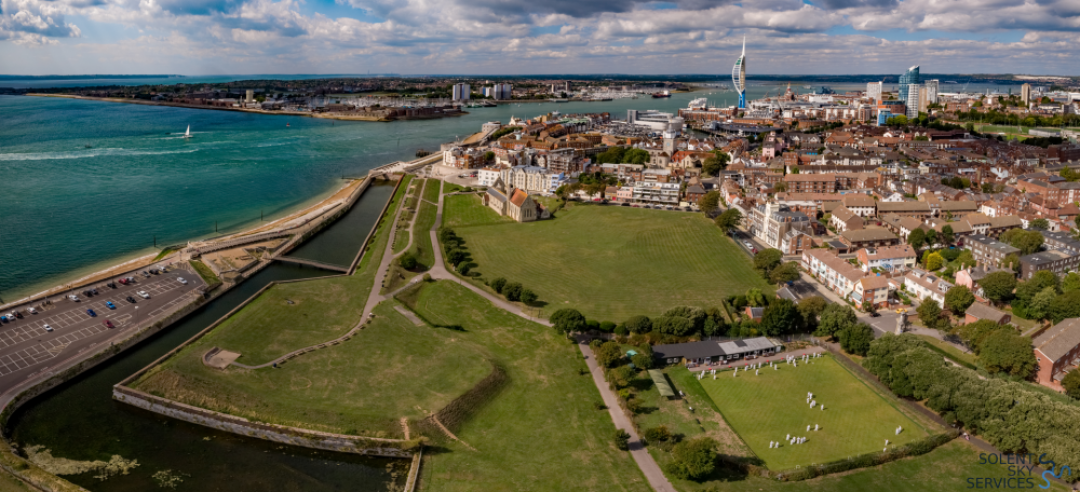 Touring Teams
If you are a touring team looking for a fixture on the South Coast just look at what Pembroke Gardens BC can offer. Six rinks (seven at a squeeze), a spacious clubhouse with ample room to seat over 50 people, a small but well-stocked bar and a warm welcome. Just click once on the About Us Tab above to see a map.
There are lots of hotels to choose from, other bowling clubs in and around Portsmouth and there is plenty for the non-bowlers to do. The Portsmouth Historic Dockyard with the new Mary Rose museum, HMS Victory and the Submarine museum are just a few minutes away. Boat trips around the harbour, the Spinnaker Tower, Gunwharf Quays for shopping or even a trip to the Isle of Wight, are all waiting for you to come and enjoy. So get in touch and we will look forward to welcoming you to our green.