WELCOME TO THE
PEMBROKE GARDENS BOWLING CLUB
WEBSITE.......SO MUCH TO LOOK FORWARD TO IN 2018. COME AND JOIN US!
We begin the new season with a Ladies team in the B League and three Men's teams in action in League 3, Combination League B and a Mid Week Triples team. We are all anxious to get back on the green to start practising ready for the new season and hoping for some fine weather.
So the Club can look forward to another busy year with 68 league matches for men and women and a lively schedule of 8 friendlies (one of those is an away fixture), Club competitions and our two Open Tournaments.
If you just want to turn up and bowl in a relaxed, informal style we have roll-ups every day. If you have not tried the game of bowls and want to have a go we are holding another "Come and Try" session on 21 April. We can provide a set of bowls and some basic tuition. We just ask you to wear flat shoes to help protect the bowling surface.
We also have a few social events planned including a trip to Goodwood Races, our own in-house horse racing fun evening and a Quiz Night. We must be one of the busiest clubs in Portsmouth.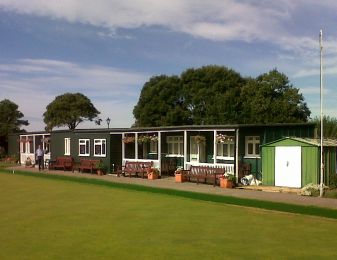 Above is a photo of the Clubhouse in August 2014
Touring Teams
If you are a touring team looking for a fixture on the South Coast just look at what Pembroke Gardens BC can offer. Six rinks (seven at a squeeze), a spacious clubhouse with ample room to seat over 50 people, a small but well-stocked bar and a warm welcome.
There are lots of hotels to choose from, other bowling clubs in and around Portsmouth and there is plenty for the non-bowlers to do. The Portsmouth Historic Dockyard with the new Mary Rose museum, HMS Victory and the Submarine museum are just a few minutes away. Boat trips around the harbour, the Spinnaker Tower, Gunwharf Quays for shopping or even a trip to the Isle of Wight, are all waiting for you to come and visit. So get in touch and we will look forward to welcoming you to our green.
Contact us

Our telephone number is 07563 186025 and the all-important post code is PO1 2NR. You can find us on Google Maps and get directions to the Club. The Club Secretary is Trevor Watkins (telephone 07762 351942) or send us an email using the "Contact us" link above.

This is a fairly new web site still under development so if you can't find what you are looking for just yet then give us a call or come and visit. The outdoor green is open from Saturday 7th April and from then until 23rd September there is a steward on duty from 12:30 until 4:30 in the afternoon.